Seniors Talk: Conquering High School Starts Now
By Sofia Vernacchio
September 29, 2022
"These are the best years of your life". 
Whether it's been a parent, sibling, friend, or just your favorite character from your classic T.V. sitcom, as a high school, this phrase is bound to follow you. But does it always feel like that? For underclassmen, high school is a lot of things: new, different, scary, and overwhelming. 
But before you start panicking, don't worry; everyone has all been there. So, as you feel unsure about how to get the most out of your experience here at Methacton High school, look no further! Current high school MHS seniors are ready to share their tips on conquering high school!
Tip #1: "Strive for your best," as senior Deepali Panchani states. Among all seniors interviewed, the common sentiment is to work hard throughout high school and set yourself up for success later on. How can you do that? Work hard in all the different types of classes at Methacton, and work ALL four years. Yes, freshman and sophomore year count, because as senior Sophia Smith said, "When you are an upperclassman you will realize that those first two and half years mattered more than you thought at the time."
There are many different ways to work hard. So if there's no straight path to achieving your goals (and most of the time there isn't one!), don't let that stop you. Even senior Hope Bailey admits, "It is not always easy." 
Still, Methacton had so many valuable resources available for all students. One fantastic outreach is your school counselors, who are there for YOU. "Stop being afraid to talk to your counselors, they know more than you think" says Julia Miccoli. Some important things your counselors can help you with include: helping you with organization, setting you up with tutors, making you a study plan, and so much more! 
Counselors, however, aren't the only ones there for you. Tip #2, according to the seniors, was a compilation of, "Being friends with your teacher . . . talking to your teachers . . . respecting your teachers." Building a bond with your teachers is a key part to your success. Teachers are here to help you in all four years of high school! Building a connection with your favorite teachers pays off. They can help you in after/before school study sessions (check their office hours), and provide you with all you need. Not to mention, by maintaining this bond, teachers will have a more personal connection to you when they write you letters of recommendation for colleges! 
That includes all teachers, with senior Jayna Garnett even saying, "Go to the library, it exists! Talk to the librarians, they can help you!"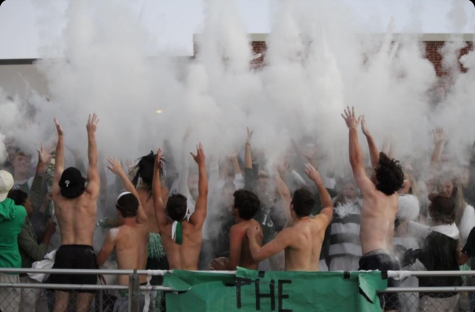 Now, with these two tips, academics seems to be covered. But what would high school be without socializing? Seniors want underclassmen to know they must have balance. Panchini believes that they should "find time for fun!" Whether that's spirit weeks, after school clubs, sports, pep rallies, Minithon, movie nights, game night,etc, Methacton offers so many ways to keep your social life active and entertaining.
 For more info on those activities at Methacton, check the Windyhill newspaper and Methacton Warrior News.
While these are the tips from the seniors on making the most of your four years here at Methacton, there's always room for you to grow your own path. Although it may seem hard now, if you follow these tips, you may just enjoy yourself. These really are the best years of your life, if you make them the best years.