Methacton Boys' Tennis Duo wins PAC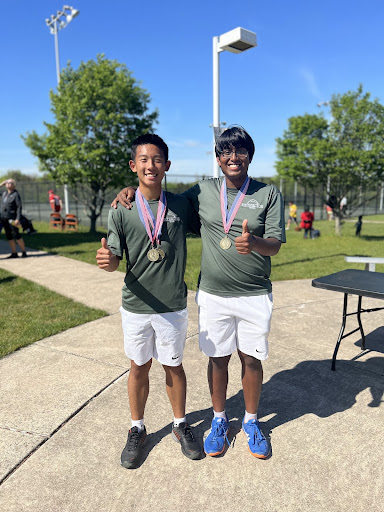 The boys tennis team enjoyed an undefeated run that ended with wins in PAC and district doubles matches. 
First seed Junior Akash Suresh and sophomore Dylan Wen placed first–6-2, 6-1–in the PAC doubles championship on May 8 at Perkiomen Valley High School against PV's Henry Ye and Landon Raupp. 
Leading up to their PAC title, the pair won their first qualifying match, a 10-game pro set against Pottsgrove, 10-1. In the quarter finals, the boys took down PV's Colin Ousey and Nolan Heyl with decisive sets of 6-0, 6-2. Semifinals was victory for Methacton with 6-1, 6-1 sets against Upper Merion's Josiah Kotright-Lindsay and Dominich Doan. 
Districts, however, did not play out the same way as Wen and Suresh won the first round opposing Avon Grove with 6-3, 6-4 sets but lost to Downingtown East's Shrihan and Vishruth Madam 4-6, 1-6.
Last year, the Methacton duo competed in PACs and lost in the semifinal round to Springford after a close three-set match. They played in districts as well last year and won against Council Rock North in the first round but were defeated by Unionville in quarterfinals. 
Suresh and Wen started playing together last year. Suresh started playing at the age of eight at Kinetix and Wen started at five with his father in their backyard. 
Suresh's hobbies include playing badminton, table tennis, video games and piano. Wen enjoys playing soccer, video games, piano and singing in his free time. Neither of the boys want to play college tennis, but may join club and intramural tennis teams.
Rafael Nadal has always been Wen's role model as he goes for every shot no matter what. Suresh admires Novak Djakovac for his incredible ability to think on the court. 
Suresh gives advice to competitive tennis players: "practice hard and have fun, and the most important thing is to just believe in yourself."
Wen said, " I would advise them to take a few clinics or lessons to get started and play with others often. The only true way to get better is if you play consistently. Then, you will see your improvement."