Wen Strikes Again!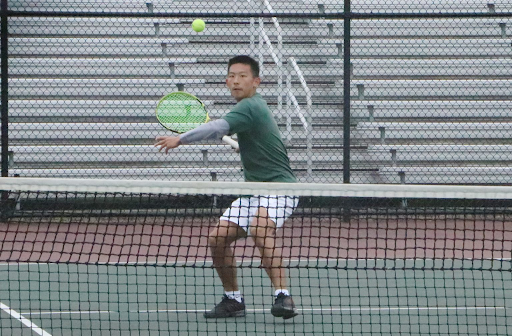 On Tuesday, April 18, Methacton sophomore Dylan Wen won the Boys' Tennis PAC Singles Championship at Owen J Roberts High School. Already the first singles player of the Methacton Boys' Tennis Team, he now has a PAC championship title under his belt.
The first three rounds were held at Perkiomen Valley High School. As he was first seed, he earned a bye (an automatic advancement) for the first round. His second and third rounds respectively resulted in crushing Boyertown's third singles with 10-0 and Perkiomen Valley's second singles with a clear sweep of 6-1, 6-0. Moving on to OJR, Wen won a long match of 6-2, 6-7, 6-1 in the semifinals against Perkiomen Valley's Henry Ye and stole the title with decisive sets of 6-3, 6-2 in the finale against OJR's Talan Nguyen, both the first singles of their school teams. 
Wen picked up the racquet at the age of five and would play tennis with his father in their backyard neighborhood court. He started taking lessons at the Frog Hollow Racquet Club at seven and switched to the High Performance Tennis Academy (HPTA) at age 12. 
With these years of practice, he quickly made his mark at Methacton. Last year, as a freshman, Wen took second place in PAC singles, the same championship he won this year. It is commendable to see how adept Wen is at the sport, being the first of his family members to play competitive tennis. Wen unfortunately was unable to compete in the district tournaments which took place on April 21 and 22 as he had a prior commitment as PMEA All-State Mixed Chorus accompanist, in which he is the youngest to represent in Methacton history! 
Wen's other hobbies include playing soccer, piano, and video games. He doesn't want to commit to playing college tennis but is interested in college club tennis. His favorite professional tennis player is Rafael Nadal as Nadal goes for every shot and always tries to improve. 
Wen's advice to other high school competitive tennis players: " I would advise them to take a few clinics or lessons to get started and play with others often. The only true way to get better is if you play consistently– then you will see your improvement." 
Methacton must certainly be proud of high-achieving students like Wen!