Medicine And Science Club launches Stemmify, a website for the MHS community
The MHS Medicine And Science Club has announced the upcoming arrival of a new STEM website, Stemmify. Created by the members of the club, Stemmify will debut in May 2021 to everyone in the MHS community, featuring various pages on STEM opportunities for people of all ages to enjoy.
The inspiration for Stemmify first came when club advisor Mr. Adoff, who has taught both biology and anatomy and physiology at MHS for more than 16 years, was brainstorming with the club's officers to create a new virtual event that could replace their usual Kid's STEM Day event, something tremendously difficult to do with the presence of the COVID-19 pandemic.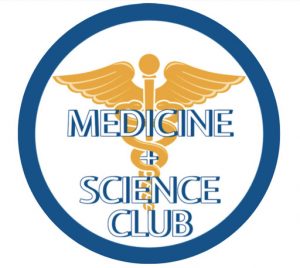 Mr. Adoff sparked the idea when he suggested creating a site for younger kids to find fun experiments. And club president Matt Tang expanded on that idea to include all age groups, making its impact on the community much more powerful.
Tang elaborated on the main mission of Stemmify, expressing that its essential purpose is "to help anyone and any age through their journey in STEM." 
To accomplish this goal, the website, split into three sections, will provide resources for all grade levels and also activities for families to engage in STEM. The first two sections, elementary and middle school, will focus more on fun science experiments.
The third section, high school, will focus more on honing students' STEM interests through highlighting STEM classes and other STEM extracurricular activities, while also including potential STEM careers for students to consider. Stemmify will even feature a page where students can view engaging video demonstrations of courses by MHS teachers. 
Tang hopes that the website's key takeaway for people will be to "dig deeper through their interests by utilizing this website to its full potential." 
As Mr. Adoff said a website like this one is important as it gives more people access to STEM.
"Society relies on the medical and science professions now more than ever. Any way that more people can be exposed to STEM is a move in the right direction. People are often scared off by STEM and our hope is to make it more approachable and more students will see themselves pursuing this path."
That is also the motivation behind the Medicine and Science Club, created approximately five years ago at MHS to aid students interested in a career in the sciences navigate the path to achieving their goal. In this club, a variety of activities expose students to the field of science, from bringing in medical and other scientific professionals for guest speaker sessions to researching volunteer and job opportunities related to the sciences. 
"I first joined the club because I was really interested in medicine and wanted to learn more about career opportunities in STEM," said Club Vice President Aditi Dukle. Now, as an officer, she helps others develop their own scientific interests.
Mr. Adoff talked about why the Medicine and Science Club is important.
"I decided to be the advisor because I think we always need more motivated and caring students to join the medical and science industries. I have always been fascinated by nature and love that science provides us with the tools to analyze the world with purpose. As a teacher I hope to make science more approachable to students that might not be very interested initially and to give the tools to the students that love science to be successful."