Methacton Theatre Company presents virtual fall play, The Laramie Project
The Methacton High School Theatre Department hosted their opening night of the virtual fall play, The Laramie Project, on January 14. 
The play was fully virtual, which was a first for the MHS Theatre Company. Every aspect of the production was done online, including auditions, filming and rehearsing. 
Director Mary Fitzgerald and Producer Janet Hoehl brought Andrew Vitovich, a theater professional and video editor on to be their liaison to the virtual world. With his assistance, the final product was a cohesive movie-style play, which consisted of Zoom recordings filmed by cast members at home. 
While faced with uncertainties throughout production, MTC strove to bring Matthew Shepard's story to light, while operating digitally. The Laramie Project deals with serious subject matter in an honest and forthright manner. It takes place after the 1998 murder of Shepard, a gay University of Wyoming student. 
The play captures the reactions of the townspeople by utilizing actual dialogue from interviews as well as from journal entries and news stories. Its message shows that despite the hatred behind Matthew Shepard's brutal assault, there is an underlying feeling that people can still choose mercy and compassion. 
Jackson Fisher and Maria Coyle, seniors and officers of the Theatre Company, contended that the play's difficult subject matter was important to share, especially at this time. 
"There's a lot of hate in the world right now. There's a lot of prejudice and the main reason we picked this play is because of what's happening in the world today," says Fisher. 
"It was really important to be doing the show right now in light of everything to show how much progress we've made, but also how much progress we have to make as a society," Coyle added.
The Theatre Department was able to combat the problem of socially distancing by recording on Zoom, which fulfilled their main priority of allowing as many people as possible to safely participate from home. But logistical issues like making sets and costumes came with filming individually. 
According to Director Janet Hoehl, their solution was to let cast members make their own costumes and choose their own backgrounds, which gave them more freedom in their character development. In previous plays, other staff made these decisions, but this year, a challenge transformed into an opportunity for students, allowing them to explore more creative options.
Another challenge that came with the online format was being able to communicate over the screen. Wi-Fi connectivity, differences in resources and limited castmate interaction were the biggest differences between being in-person and online. 
With these limitations, Mrs. Fitzgerald, director of the theater company, said that it was difficult to make sure that they did not shortchange any important aspects of what happened in Laramie. Fully articulating emotions through the screen and connecting with fellow castmates were also obstacles during filming. Because rehearsals were over Zoom, they were more like "cold reads", said Coyle.
Much of the play's success is accredited to Mr. Vitovich. He stitched every individual Zoom recording together to make the finished product using his video and sound editing skills. 
Erin Donovan, company historian and publicity officer, added that Mr. Vitovich, along with both directors, helped her to perfect her scenes so that they fit the play's narrative. And while some people did not have the same physical resources, like green screens, Vitovich remedied this by creating digital scenery.
The virtual nature of the play posed yet another obstacle, as being online challenged the "togetherness" of the theater community. Rehearsing by logging onto Zoom was worlds away from being on stage Seniors Julia Brady and Coyle felt that this contributed to the lack of community among them, especially for newcomers. Brady, secretary of the theatre company, said that it was difficult to connect with castmates because they were not doing scenes together.
Coyle, who is also a spirit officer of the MTC, said that it was difficult to have the senior year she imagined with the virtual format.
"I always wanted to be the senior that was bringing in the freshmen and making little gift bags for everyone, but I couldn't really do that, and it was hard to bring people together. You had to reach out a lot more to have that feeling of community."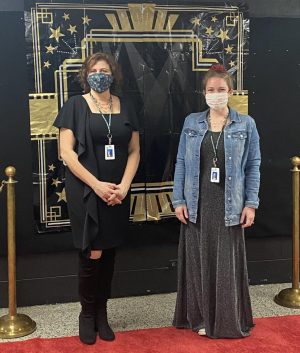 Even as the MTS navigated unfamiliar territory during the initial planning and production process, the final product exceeded expectations of cast members and directors alike. 
 "Speaking personally, I think it is a very high bar we are setting based on the product you are about to see," said Mrs. Fitzgerald. 
As of now, the MHS theatre company is planning to put on a spring musical but is unable to disclose further details until they have rights in hand. Directors plan to commission artists for backdrops for background scenery. They will have more time to set up, with additional community involvement. And the prospect of in-person rehearsals is more plausible for the springtime. 
Mrs. Fitzgerald expressed that with these emerging plans, come more impending complications. Plugging in a mic and singing and projecting under a mask are foreseen logistical issues. They also want to make sure that students unable to come in-person to rehearse can participate equally.