Kaili Brinton's self-portrait wins SADI brochure contest
The 2020 Summer Art and Design Institute at Moore College of Art and Design chose junior Kaili Brinton's art to promote its 2021 summer program. 
Her piece utilizes a technique similar to the subtractive method but resides on a virtual canvas instead of a traditional canvas. She concentrated her work on the analogous colors violet, blue-violet and blue. 
Kaili used Apple Procreate, an app on an iPad, to create the self-portrait. She then submitted the piece for the 2020 SADI exhibit where it was chosen from more than 100 other works of art for the 2021 SADI brochure.
Overall, Kaili really enjoyed SADI last summer. She said it was a great way to practice her skills and meet new people. 
SADI consists of four weeks of college-level art courses that run five days a week from 9 a.m. to 5 p.m. The program also offered optional study sessions daily from 6 to 8 p.m. Instructors would focus on specific areas of the art industry throughout the program, such as Animation, Drawing, Illustration, Color Theory, and Game Design/Painting. 
Kaili said she greatly improved in her drawing and painting skills as most of her classes were taught by instructors who really inspired her. 
"Most of my teachers have said that I'm particularly good in showing value and realism."
Kaili also got to meet a lot of new people.
"The girls that I met through the Zoom classes were super nice and we all quickly became friends."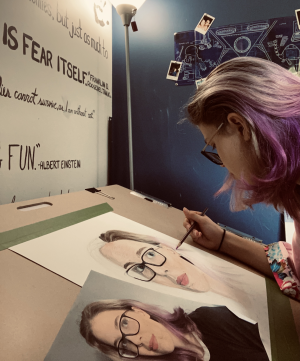 Moore's program allowed many opportunities for students to interact, including game and movie nights every Wednesday and Friday. The students also discussed interests other than art, such as the LGBT+ community.
An AP art student, Kaili has had an interest in art her entire life, saying her earliest memories go back to her days in elementary school. 
She recalled doing a time capsule project in fourth grade during which she wrote that she wanted to be an artist when she grew up. 
Kaili is preparing to pursue fine arts as a career and may attend Moore after graduation. She also may return next year for the 2021 Summer Art and Design Institute. She will also consider other colleges' summer art courses.