Aidan Samsel uses graphic design skills for good in Bethesda Project charity event
Tenth grader Aidan Samsel recently volunteered in a charity event benefiting homeless outreach held by the Bethesda Project, a nonprofit organization in Philadelphia. 
The Bethesda Project provides shelter, housing and supportive services to adults experiencing homelessness in Philadelphia, serving as a home and family for those who have none. 
In November, the nonprofit held a month-long charity event, to which individual Philadelphians donated $25 in exchange for portraits of their homes created by volunteer artists in the Greater Philadelphia area. It was open to all artists of all skill-levels, in any medium: drawing, painting, crafting, or graphic design. 
All proceeds supported the Hunger and Homelessness Awareness Week, an annual week-long program where people across the United States donate money and organize and attend events to raise hunger and homelessness awareness. 
Aidan discovered this opportunity through his graphic design teacher, Mrs. Ferenchak.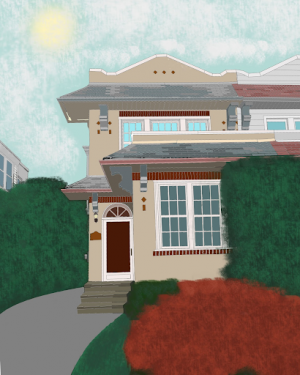 Once he received a picture of a donor's home, he started right away on the graphics editor Photopea, tracing a contour line and adding colors, textures, and details to perfect the drawing. The process, which took about 15-20 hours, was lengthy, yet rewarding. 
"I did not have any trouble, but it is a lot of work," said Aidan. 
This was Aidan's first big graphic design project. His interest in this particular medium started a few years back when he began using Adobe Photoshop. He further explained his affinity for digital design.
"I like art because I'm a detailed person that likes to make things realistic," he said.
He is taking his first graphic design class at MHS and plans on taking more advanced graphic design classes in the future. He hopes to continue using his artistic ability in bigger projects in the future as he gains more experience using digital art programs.