Newly formed Black Student Union seeks open-mindedness and change
The newly formed Black Student Union has created an accepting and encouraging environment for student activists to express their beliefs about a variety of different topics. Co-founders and seniors Steven Cadogan and  Ian Kehinde, hold meetings via Zoom to talk about a variety of topics, ranging from SARS in Nigeria to the 2020 election. 
"We want to start a dialogue on important issues in and around Methacton. We hope that by attending our meetings, you will be able to hear different perspectives on topics you may or may not have been open to discussing before. We believe that open-mindedness is the first stepping stone to creating real change," said Cadogan. 
Kehinde discussed what inspired him, Steven Cadogan, and alumni Ty and Chade Darby to start the Black Student Union.
"Following the murders of George Floyd and Breonna Taylor, we agreed that it was necessary to create this organization. Racial tensions are at an all-time high in our society. There has never been an organization like this in Methacton, so we felt that it was the perfect time to make a black student union. We strive to be the change we want to see in the world." 
The co-founders went on to talk about Methacton's response to the club's cause, specifically naming a couple of local outlets. 
"Groups such as the DEI Taskforce and Multicultural club have supported our formation in various ways." 
The DEI task force gave the organization a platform before the BSU was an official club. So, the The multicultural club helped spread information about the club and has even helped to plan some events. 
Kehinde and Cadogan agree on the changes or improvements they think will better the Methacton community. Some of these changes include improvements to curriculum at multiple levels and changing to a new school mascot.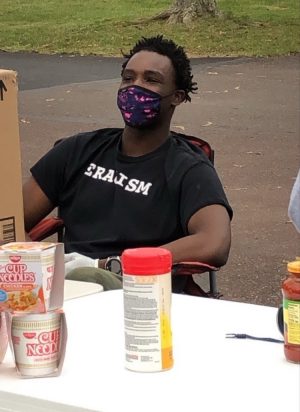 They also talked about how there will always be "trolls and dissenters" but indicated that the majority of the Methacton community was very supportive. 
Cadogan pointed out that "The Methacton community as a whole could be more open to awareness which can lead to becoming more educated on diversity, equality and inclusion issues." So far trolling has not been an issue. 
Kehinde wanted to make a few things clear about MHS's BSU. 
"This club is not only for black students. Anyone and everyone is welcome to the table. We are not affiliated with BLM in any way shape or form. We are our own standalone organization." 
To learn more about Methacton's BSU, visit their Instagram page at https://www.instagram.com/p/CITE64kjLKE/?igshid=50n91si6jox3