MHS Holds First Holi Celebration with Great Success
During the colorful afternoon of March 31st, MHS students and staff threw colorful powders at each other, had a plethora of snacks, and danced to multicultural music as the Multicultural Club held Methacton's first Holi celebration. 
Holi, a Hindu festival celebrating the arrival of spring and the triumph of good over evil, is celebrated across the world. On this day, people join with friends and strangers alike to dance and throw colors of all different shades and hues. With many bright shades of powder, no one goes home from a Holi celebration without being covered head to foot in rainbow colors. The spread of the Indian diaspora has brought Holi all over the world– and now, it's here at Methacton. 
"It was such a unique experience," says senior Sophie Noller, playing Holi for the first time. "You got to come together and throw powder at people who you barely knew, but by the end of it, you were friends with them."
President and senior Ananya Shrivastava says "Something like this has never been done in our school district before. We've had the International Festival, but that's more of a show we put on for other people. Holi is a more active form of awareness than sitting and watching people dance, it lets you participate in it."
The idea for this event evolved after an initiative proposed by Shrivastava to make the school district's calendar more inclusive of diverse holidays. Working with Principal Dr. Gravinese and DEI Director Mrs. Washington, she created a list of cultural/religious holidays (such as Diwali, Eid, and Lunar New Year) for the school board to consider as official school holidays. Reflecting the diverse population of MHS, she hoped to give these holidays a similar status as already-recognized cultural holidays like Christmas or Yom Kippur. Though the proposal didn't pass, it only made Shrivastava more determined to find another way to bridge the gap of multicultural holidays at MHS–and with the Multicultural Club, that's precisely what she did with Holi.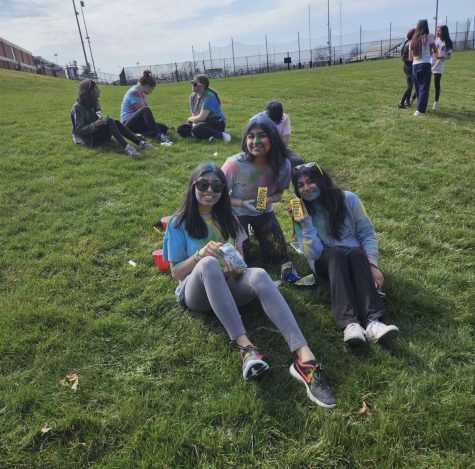 Organizing the event was an involved process, requiring the club to purchase many pounds of powder and protective sunglasses, as well as an array of snacks and drinks. In order to keep the event free for their participants, the club both used their collective funds and applied for funding from the school. They built an energetic playlist full of Desi (i.e. from the Indian subcontinent) music, as well as some multicultural songs from other parts of the world.
The biggest challenge, however, came in getting the word out of the entirely new, and thus, unknown event. By creating flyers, making short promotional videos on Instagram, and of course, through word-of-mouth, the hardworking advertising team were able to collect over 100 sign-ups for the event. 
The hard work paid off, according to a broad consensus of those who attended the event. Senior Haley Chung said that her first Holi experience was "so fun!! I was happy to participate because I've seen it before on Instagram but have never actually done it myself."
Reflecting back on it. club secretary Deepali Panchani was grateful for the support and looked toward even bigger crowds in the future. She said that "A lot of the people that came were club members and their friends. That was great for this year, but hopefully we get a more diverse turnout in the years to come."
If you want to help their efforts, consider joining the Multicultural Club. Contact @[email protected] for more information.