Rasika Sivakumar wins "Child Artist Award"
By Sofia Vernacchio
February 26, 2023
Rasika Sivakumar, MHS freshman, has been singing Indian classical music since she was three years old. She is also skilled in the Western and Indian violin, and Indian classical dances! All of these talents and more earned her a returning spot last month performing in the prestigious Indian music festival known as the December Music Season.
Her mother teaches Indian classical vocals and her father gives lessons on the Indian drum known as the mridangam. With her parent's background in the arts, it is not surprising that Sivakumar would be drawn to them as well. Sivakumar has been performing since she was only eight years old! Music and performing have always been, as Sivakumar puts it, "like a break from the world around me, whether it be studies, chores, or other commitments." Being invited each year to travel India and perform is always a wonderful experience for her, this year especially!  
The December Music Season is a month long (from December 15th to January 15th) and takes place in various places around India. The organizers typically look for young up-and-coming performers or performers that have done numerous performances in the past. The festival is filled with artists of varied talents that share their skills in multiple different halls. In Sivakumar's case, this year she was invited to perform at eight different venues in India.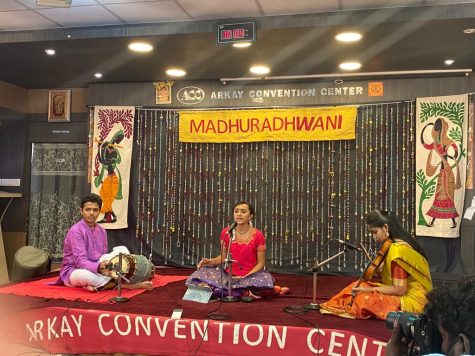 During this trip Sivakumar was accompanied by different violinists and mridangists for each concert. Those that accompanied her were a bit older and more experienced. This was wonderful for Sivakumar because as she said "I had a nice time interacting with my accompanists as well as meeting other musicians." Along with meeting other artists she got to meet, practice, and perform with her expert vocal teacher, a musician himself, who had been teaching her from India!
Now, while the performance and the experience were already amazing, Sivakumar got some exciting news. She was nominated, and later won, the "Child Artist Award"! This award is given to the best child performer at the event. In an event with so many diverse performers, this is a huge honor!
Sivakumar said about her achievement: "I feel very humbled and blessed to receive this award at this reputed festival. I am forever grateful towards my parents for nurturing my musical journey every step of the way." 
If you would like to see Rasika perform, you can find her @rasika4arts on YouTube and Facebook, or on her official website rasika4arts.com!