MHS Steps Up For Ukraine
Russia and Ukraine, neighboring countries in Eastern Europe, have long held simmering tensions over land possessions and recognition of Ukraine as a sovereign nation. From Crimea in 2014 and Ukraine's pro Western ideologies, these countries have spent much of their history at odds with each other. 
Yet, on Feb. 24 2022, this conflict would escalate to a full fledged war with an invasion by Russia into Ukraine with an intent to annex the country as part of its own. With the war raging fiercely over the past two months, numerous atrocities have befallen the civilians of Ukraine, who have been trying to evacuate en masse to neighboring countries, including Poland, Romania and Hungary. 
Ukrainian teenagers are especially affected and have to deal with devastating consequences regarding finding access to basic necessities like food and shelter, which are increasingly becoming scarce. Schooling, which converted to a virtual format after a two-week holiday, is often difficult for students to attend, as they are facing more immediate concerns regarding daily life. And due to the war, the rise in estimated long-term signs of PTSD in children has risen nearly two-fold.
The severe conditions facing the Ukrainian civilians has outraged people and nations around the world, who have committed to raising funds to aid towards the growing humanitarian crisis, such as even in the local MHS community, where MHS student activists, leaders and organizations have stepped up to contribute their efforts. 
The MHS Multicultural Club, partnering with the MHS Save A Life Club, is one such organization. Featuring an indoor movie night, the club decided to show "Encanto" as its headline to promote "themes of unity and courage," according to club officer Parry Ngov. Selling over 40 tickets, as well as concessions at the event, the two clubs managed to raise over $500 for the United Ukrainian American Relief Committee, a local organization based in Philadelphia. 
Ngov believes that it is always important to be involved in world affairs, however indirect it is for one. "We may never experience the same pains that those in the ongoing crisis may face, but we should do all that we can to both assist those in need and inform ourselves of the conflict," he said.
Ngov was not alone in this sentiment or action. The MHS Key Club, along with the MHS Kids Against Crisis Club, hosted a week-long fundraiser during school lunches, where they charged $1 for students to guess the number of Hershey kisses in a glass jar. Raising $103 through approximately 50 – 80 guesses, the clubs donated the money to UNICEF's Ukraine campaign. 
For Key Club Secretary Aayati Patel, efforts like this are crucial because "we as a society have an obligation to be good. So many people's lives got turned upside down, including teenagers just like us. It is important that we see their sacrifices and losses and see how fortunate we are, and that, if we have the means to help, we should."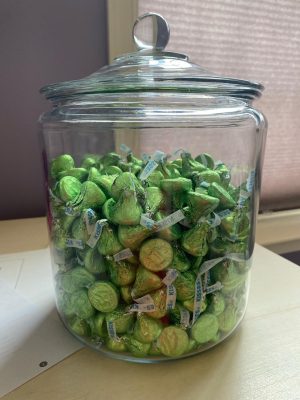 Shrinija Dandibhotla, Key Club Treasurer, stressed the importance of teens everywhere contributing to humanitarian efforts in the world, whether through the growing social media medium or by starting online fundraisers. 
"It only takes one person with the initiative to start advocating to get an army of people dedicated to the cause, and I think that that's the beauty of humanity," said Dandibholtla. 
MHS will continue its student-led initiative to provide relief for Ukrainians, with the MHS Black Student Union hosting its own movie night, featuring the Disney movie "Soul," on April 28 at 7:00 p.m. in the MHS auditorium. Open to the whole community, the event will be selling tickets during all school lunches and at the door, and will be sending all of its proceeds to UNICEF's Relief Campaign. 
Ngov has one thing to say to all those who want to be involved: "The best way to be involved is to not only be informed but to contribute. Donate if you can. Host and participate in fundraisers. Tell others to help too. Anything big or small can help, and it is up to you to act."