Seniors celebrate under the stars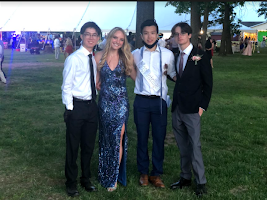 By Sameeksha Panda
June 1, 2021
MHS held its senior celebration at Linfield National Golf Club on May 21 from 6-10 p.m. The event featured food trucks, yard games, a DJ , a Soul Joe's comedian and senior superlatives.
The event, planned by the Class Congress of 2021 and the Home and School Association, was held in lieu of the annual prom, and was planned in an outdoor environment due to the state's COVID-19 restrictions. 
According to Jessica Lineen, Vice President of the Class Congress of 2021, this outdoor setting helped to inspire the event's theme, "Under The Stars". The dress code for the event was not restrictive; students could come decked out in formal attire or breeze in a casual look.
Planning for the event first started in January, once the venue was confirmed.
The Class Congress and its sponsors, Mrs. Fabrizio and Mrs. Alderfer, planned the various components after gathering student input from surveys. The teachers and congress members subsequently used flyers, social media posts and school announcements to advertise the event.
Seniors were greeted to the sight of a majestic tent decorated with stars, flowers, and lights attached to nearby trees.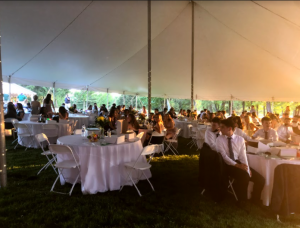 Near the tent, an array of food trucks were stationed, offering a variety of delectable options, from tacos to ice cream to coffee. Hoagies, wraps, salads and other entrees were available at an outdoor gazebo, where caricature drawings and photo shoots were also being offered. 
Near the other end of the tent, a wide variety of field games were set up, including cornhole and Kan Jam. The evening also featured raffles, a balloon artist and yearbook distributions.
Senior Alison Lindy said future prom planners could learn from this event. 
"This definitely is what prom should look like in the future. It's been amazing, and I'm having a lot of fun tonight!"
Mrs. Griffith, who has taught a variety of science courses during her 26 years at Methacton, said the event could not have been better. 
"Being outside on such a beautiful night is definitely wonderful, and this event was perfectly executed. There's something for everyone, and a wonderful way to end the year," said Mrs. Griffith.
Seniors are now looking forward to the next big milestone, graduation day, which will be held at Subaru Park on Thursday, June 11.