Sanchez to ESU, Sanelli to UD in latest collegiate signings
Aaron Sanchez committed to jump at East Stroudsburg University for their track and field team next year. Justin Sanelli will play lacrosse at the University of Delaware in 2021-2022.  
Sanchez, was named an All Area Team Honorable Mention in 2019 during his sophomore campaign. Despite a COVID-19-shortened season, he is happy that this spring will be in full swing. 
"I am excited to get back out there and compete again," he said. 
Sanchez made a comment on his favorite moment as a high school athlete and he explained that there was no better time in his sports career than his sophomore year. 
"The entire season was truly one of the best times in my life. I made countless memories with all the guys on the team, and learned so much about myself during that season. It ended with the PAC championship where I placed 7th in both high jump and long jump."
The future Warrior is undecided on his major but knows he wants to pursue either finance, business management or accounting. Sanchez chose East Stroudsburg University because of its size, location and the feel of its campus. 
"I knew I wanted to attend within driving distance of my house, and also knew I wanted a mid- sized school. So from the very beginning of my recruiting process, I had ESU on my list. My decision was made very easily once I visited the campus and got a very modern, clean and friendly feel to the campus".
While Sanchez is most excited about meeting new people and getting started on his journey towards working in the finance industry, he is most nervous about getting a group of friends to experience college with. He is looking forward to meeting the guys on the track team as well as the students in his classes.
Justin Sanelli, who committed to play lacrosse at Delaware back in the fall, has had an extremely decorative MHS career already despite not having a junior-year season. 
Sanelli earned Second Team All Area and PAC 10 Honorable Mention honors. He has also been the fourth leading scorer in the PAC 10. His coach awarded him with "highest IQ" on the varsity team during his freshman campaign.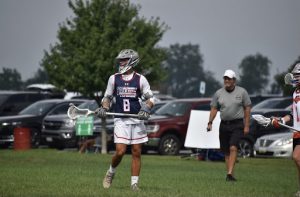 Sanelli talked about his favorite moment as a high school athlete.
"It would definitely be scoring 41 goals my sophomore season. I worked extremely hard during the offseason to be a dominant player in the PAC, and even [in] the state, and I feel like I really proved myself for that season and showed teams what I could really do."
The future Blue Hen will be attending Delaware to major in finance 
"The campus at Delaware feels like home to me. I knew I wanted to go somewhere with a bigger population, and Delaware seemed like the perfect size for me. I also really connected with the coaches at the school. The program that they have built up over the past couple years at Delaware truly shows who I am as a player, and I love what they are doing down there".