Groff leads boys swim team in breaking two records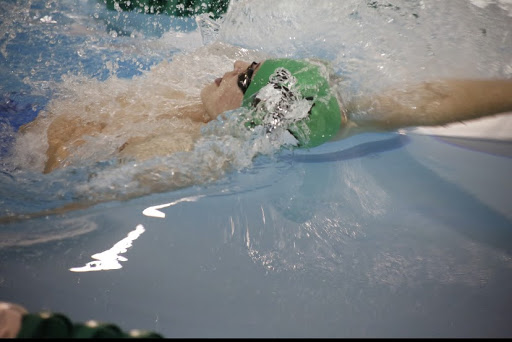 Sophomore Chris Groff broke the boys team record in the 100 backstroke in 52.74 during the Warriors' home meet against Boyertown on Feb.10, eclipsing his own previous record from last season of 53.91.
The pressure for fast times was on at a mid-season meet, with swimmers squeezing the last they could out of a shortened campaign. Groff continued to train hard despite COVID-19-imposed limitations in preparation for district championships, but he certainly did not plan to break any records this season.
"I was shocked," Groff said. "When I saw that I broke the record, it was really such a surprise."
The modified swim season threw a wrench into the training season, with a late start and restrictions on training slots and equipment use. And, with the uncertainty of regular meets, not having a definitive set of times to aim for, made it difficult for swimmers to understand what their goals were. 
Missing critical training periods, such as Thanksgiving and Christmas break were hard to make up, but Groff maintained his resolve, taking advantage of every opportunity to race, saying, "[my] goal has always been to keep improving year-to-year, and I am always looking forward to training harder in the future."
Groff also credits his coaches, Sarah Stevens and Matt Schulz, for tweaking his stroke to be faster and more efficient at every part of the race. He is also is grateful for his close-knit and dedicated team. 
"[The team]has really stepped up this year, which has most definitely been showing in the results of our season so far. But I have absolutely no doubt that I wouldn't have been able to break that record without my coaches and teammates supporting me," Groff said of the 5-0 Warriors. 
Groff's contribution to the record board wouldn't end with the backstroke. 
He led off the 200 medley relay, setting the rest of the team, juniors Tommy Gibbs and Dylan Phan and senior Jan Bonilla-Perez, in motion. They unexpectedly set a boys pool record, clocking in at 1.38.21. The previous record of 1:38.30, held by Leon Lin, Austin De'Angelo, Gill Price and Matt Schulz, stood since 2015. 
The four swimmers, all who are district qualifiers in their respective events, aimed for a district qualifying time in the 200 medley relay as well, but they had not planned to break the record. 
"I was already kind of hyped when the race first ended and realized that we dropped a ton of time and were pretty much for sure into Districts. The record was almost like a cherry to top it off," Phan said.
The relay team's next goal? To make it to States.