Medicine and science club hosts second guest speaker session with physical therapist Kyle Kammerle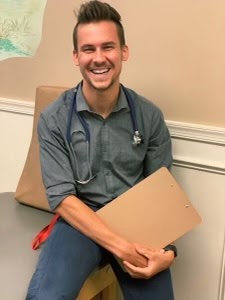 The Medicine and Science Club hosted their second guest speaker session on Jan. 20, featuring Methacton alumnus, Kyle Kammerle, an outpatient physical therapist. 

Kyle works at Willow Grove Physical Therapy, where he specializes in treating neurological, vestibular and orthopedic impairments. 

Physical therapists are movement experts who improve quality of life through prescribed exercise, hands-on care and patient education. They diagnose and treat individuals of all ages in order to improve those patients' ability to function properly. 

Kyle is very passionate about his job and says that working in the healthcare field is all about human connection. Because physical therapists develop treatment plans to help people lead active lives, they typically work with patients for a very long time. He believes that the most rewarding thing about his job is how profound of an impact he has on someone's life. 

Kammerle graduated from Methacton High School in 2014 and is a former student of Mr. Adoff, sponsor of the Medicine and Science Club. He received his Bachelor of Science in Biology and Doctorate of Physical Therapy from Arcadia University. Kammerle's interest in biology and the human body developed in high school. He credits Mr. Adoff's anatomy and physiology classes, career tests and job shadowing as the main factors that spurred his interest in the medical field. 

Knowing one's strengths and weaknesses along with general interests will help to elucidate possible careers, he said. He strongly believes that it is helpful to reach out to facilities and people in the healthcare field, as having a firsthand idea of what a job entails is a huge part of career discovery. 

He encouraged high schoolers to be upfront and proactive. Most of the time, professionals are more than willing to help students learn about their careers, he said.

 "Use your breaks. Use your connections. The worst they can say is 'no.'" 

The relevance of job shadowing continues in college and can play an important role in gaining entrance into graduate programs. Kyle encouraged students to be as active as possible while shadowing and to show initiative to be successful in future ventures. 

Mr. Adoff attested that high school students should start thinking about job shadowing. Reach out to Mr. Adoff or Kyle ([email protected]) for resources. 

Kammerle's advice for looking at colleges was to make the most informed decision possible. Variables like student life, finances and academic programs are all central to the decision-making process. Doing thorough research, which includes talking to enrolled students, visiting campus and talking to admissions officers is beneficial. 

Kammerle's overall message for high school, college, and beyond was to explore as many options as possible and to be open-minded. He strongly advocated trying atypical activities and jobs, saying that new experiences can fulfill one's life outside of the career journey. 

"

I love combining my knowledge of dance and physical therapy to help rehabilitate dancers suffering from sport-related injuries."

— Kyle Kammerle

As a college student, he participated in many clubs and organizations that are still relevant to him today. He has followed in Mr. Adoff's footsteps and teaches at Arcadia as an adjunct professor in the biology department, where he is also on the board of trustees. His other experiences while attending Arcadia include studying abroad in Alaska, the Philippines and Jamaica. 

Kyle currently has two other jobs outside of PT and teaching. He is a dance instructor at Dance Time Dance Academy and a cheerleader for the Philadelphia Eagles. He maintains that the value of experiences is fluid, and it is important to foster interests and passions outside of work as they can be applied in different capacities to professional life as well. 

"I love combining my knowledge of dance and physical therapy to help rehabilitate dancers suffering from sport-related injuries," he said.

His final note was that high school students should not stress too much about their careers. There are many ways to branch out to different jobs within a field, and using prior experiences can open up worlds of possibilities. 

Matt Tang, president of the MHS's Medicine and Science Club, affirms that guest sessions are a useful way to spur students' career aspirations, especially for those interested in STEM. 

 "I think that the speakers set a reassuring message to high schoolers' mindsets. Thinking of a career path and planning for the future is definitely stressful, but the great variety we get from the club really helps students get a better understanding of what they could be interested in doing," said Tang.

Speaker sessions like these are open to all. Students who would like to watch this speaker session, as well as previous ones, should check out their Youtube channel.