MTC modernizes Romeo and Juliet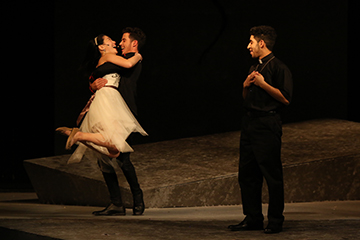 The Methacton Theatre Company will present William Shakespeare's Romeo and Juliet on Nov. 10 at 4 p.m., and on Nov. 11-12 at 7 p.m. in the MHS auditorium.
The classic romantic tragedy takes place in Verona, Italy where the Montagues and Capulets remain enemies as they have for so many years. When their children become star-crossed lovers, fate takes a turn for the worst ending in a tragic love story of despair, frustration, and many decisions to be made.
Director Rosemary Welsh has decided to put a modern twist on the play with contemporary costumes, dance, and music, while keeping the Shakespearean language. Senior Izzy Mouradian, who plays a servant and dancer, thinks that the modern version will attract a broader audience.
"It will add some spice and show how Shakespeare can still be relatable 400 years later."
The dance style will be a combination of hip hop and ballet. The dancers will be dancing to various songs including We Found Love, by Rihanna, in fierce and fashionable costumes. Costume mistress Colleen Strohlein is very excited for the modern look.
"We have always used costumes from older time periods. This is so new and different for us."
This is a company of  60 actors, actresses, technical crew, set crew, and production staff. Junior Cole Moore and senior Jessica Wang will be playing the parts of Romeo and Juliet, with Kaitlin Cavallo as the nurse, Louis Rodriguez as Friar Lawrence, Sarah Barainyak as Friar John, Zack Martin as Mercutio, Justin Leggin as Benvolio, Shayan Farmand as Tybalt, Ronald Rajan as Paris, Dan Wengel and Jane Vitelli as the Capulets, and Charley Kinsky and Kallie Miholics as the Montagues.