Major contest wrap up: Mr. MHS, Talent Show, Film Festival and Battle of the Bands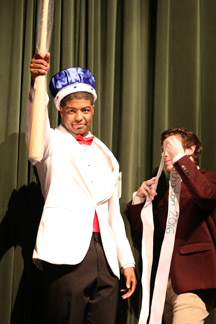 MHS hosted a number of events during the late winter and early spring including the Talent Show, Mr. Methacton, Film Fest, and Battle of the Bands.
The sold out Mr. Methacton contest saw senior Stephan Savage win the crown.
Run by Student Council and FCCLA and hosted by Mr. Ryan and Mr. Koons, the event featured male seniors in a beauty pageant type environment competing for the crown. Second place was taken by Tristen Bradley. Third place was taken by Scott Steuben.
The Talent Show, held on March 18, featured 13 student acts, most of which were singing. Student Council also hosted this event with the help of the Dance Team. According to Mrs. McGruddy, one of the council's sponsors along with Mrs. Markle, about 200 students attended event.
Elizabeth Jeuscher took first place, singing an original song titled "Growing Up".
She says she dedicated the song to her little sister.
"I wanted a song that also put the transition from high school to college into words because that's something I can easily identify with."
When they announced her name as the winner she felt really excited.
"It was my last talent show and it felt good to have this as a memory of high school."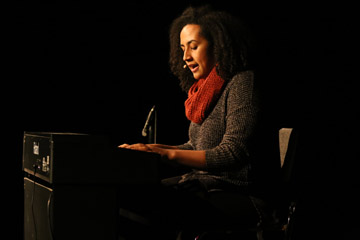 Jeuscher also said she is inspired greatly by her family and friends.
"They're always super supportive and sometimes they're good subjects for a song. I also like writing about things that I experience or that others can relate to."
She started playing piano at 5, and started learning guitar a year ago.
"I've always loved singing and started writing my own songs in fifth grade."
Second place was taken by Abby Rissinger who did a stand up comedy act about her senioritis and the college application process.
"I definitely was afraid I wouldn't place but I was so thrilled that I did. I had also placed second last year so it was a bit funny to be there again. As Drake would say, ' Started from the bottom…now I'm in the exact same spot'".
Rissinger says she pulls most of her stand up material from her daily life.
"It sounds cliche, but I really think a lot about things that I deal with on a daily basis, such as my struggles with dyslexia."
She also said she is inspired most by her family, especially her dad, who published joke books when she was a child and her older sister, Emily, who did stand up in college.
"My dad has always motivated me to write and always made me feel like comedy was a special gift in our family. As for Emily, I would always watch her go onstage and do stand up. Seeing her perform really inspired me to gather the confidence to do the same."
Abby says she has performed her stand up three times, which were all at school.
"I started at the talent show my sophomore year. The first time I performed I wasn't allowed to be part of the competition because I was the only person who wasn't performing music, so it really means a lot that I finally got to compete and on top of all that being able to place. I'm just very grateful."
She says that she started doing stand up comedy as a new way to express herself and her feelings.
"There's a lot of times in life where you get knocked down and bad things happen, but I find that comedy is a great coping mechanism to help get through rough times in life."
The Film Festival was held on April 1. First place went to Cam George and Peter Ditzler with their film, "Big Feet, Big Ambitions".
"It was about a reality TV crew of Bigfoot hunters and their obnoxious producer, who respond to a distress call and discover that Bigfoot's a more dangerous target than they thought," said Ditzler.
They both said they were shocked when they were announced as the winners.
"We liked our movie, but we didn't think other people would like it all that much," said George.
They admitted that they had a film before this one but had to trash it, so they got a late start filming. They finished the entire project by mid-March.
Peter says that they got a lot of their script from improv jokes around the set.
"We floated around a bunch of ideas last summer and early fall before one of the crew members, Brendan Marion, suggested a movie about Bigfoot hunters, because he had watched an actual Bigfoot hunters TV show. Cam and I just built the story on that foundation and there were quite a few jokes improv'd on the days we filmed."
George says he recently just became interested in film thanks to Ditzler.
"Working on this movie showed me how much fun screenwriting and movie production are."
Peter entered the film fest last year. He did not win but was nominated for best writing.
"We entered with a movie about a contagious verbal disease where people can only talk in puns. It was pretty embarrassing, so we're hoping we're improving," said Ditzler.
Next was Battle of the Bands on April 8. The event was hosted by Maddie Smith and Julia Pablo. Five bands performed that night including Varoon 5, The Revolving Doors, Delta Squad, Odyssey and Double Suede. There was also a special performance by Jackie 1000, a band with Mr. Adolf and Ms. McCauley. First place that night went to The Revolving Doors, with members Radka Kasparcova and Zachary VanSant. Second place and the audience's favorite honor went to Odyssey.
VanSant and Kasparcova both were extremely happy when they were announced as the first place winners.
"Zack and I are currently seniors at Methacton, so it felt great to end high school with a bang such as this," said Kasparcova.
They often prepared for the performance separately.
"Although we didn't practice much together as a group, what matter was us practicing by ourselves so our parts were solid. Practice makes perfect!"
They performed three songs, two of which were well known songs and the other, was an original song from Radka's other blues band, Time Gap.
"We performed Crossroads (Eric Clapton version) and Thrill is Gone by BB King, but added our own taste to it. We also performed Rain On My Parade, which is an original," said Kasparcova.
Both VanSant and Kasparcova agreed that other musicians them the most.
"People who put passion into music and truly let out their emotions through the music inspire us the most," said VanSant.